News and Gossip - News and Gossip - News and Gossip
12 September 2009
I know late again with an update on the band's progress. We're busy as ever with lots of enquiries for dances of all sorts from Festivals to Weddings. We're currently booking six months or more ahead.
We had an interesting Winchester MayFest where we were hosting a childrens, Play with the Band" workshop. We didn't get that many takers for this but the kids that did come were really excellent. We included them in the band in the evening Ceilidh and they had a ball and played their hearts out. It was fun just seeing the buzz that they got from playing for a good crowd of dancers.
Bideford Folk Festival was probably the friendliest festival we've ever played for. We were there for four days during which we hosted a pub session, helped out at a band workshop and played for two dances. I have to say if you are looking for a gentle, not too busy festival next year do give Bideford some thought. I don't think you'll be disappointed.
Whitby Folk Week at the end of August was as good as ever, How the organisers manage to put all this together I do not know. over 600 events, a huge range of performers, lots of pubs sessions (3 at the same time most afternoons), workshops, concerts and dances to suit all tastes. We played for six dances during the week, mostly in the wonderful Pavilion main hall, huge dance floor and seating area and this year in particular, excellent PA and the friendliest sound guys ever. All in all a really great week, I was quite sad to come home. You can see some YouTube video's of us here, here, here and here
Looking forward, we've got a few more bookings that are open to the public, you can see these on our Public Booking Page In particular we will be playing down in Devon again at Fremington Parish Hall, near Bideford with that lovely chap Jouhn Blackburn calling. That's on the 17th October. There's a chance to see us locally at Twyford Village hall near Winchester on the 7th November with Nigel Close calling, this is a regular monthly dance at Twyford.
We're pretty busy in December, on the 14th we'll be playing for Forest Folk's Christmas Ceilidh. Lots of fun this one despite the small hall. On the 19th we are at the Godalming Borough Hall with Gareth Kidier calling, one of our favourite hall to play in with a good big stage and a good crowd, maybe see you there. If you're looking for a good dance on New Years Eve then come and see us at Cecil Sharp House in London. It's a real "Bop 'till you Drop" night we start at 8:00 and don't stop until 1:00 AM. This will be the third we've done and if the last two were anything to go by this will be a memorable New Years Eve.
Next year is filling up nicely, with a couple of festival enquiries and a definite Haddenham Ceilidh on 5th June 2010.
05-Jan-2009
Wow! so this is what 2009 looks like. New Years Eve was a ball, in more ways than one. A lovely crowd of dancers and excellent groupies joined us at Cecil Sharp House. The five hours just whizzed by, it's amzing how a good dose of adrenalin keeps you going. Our sincere thanks to Liz and her team at the house and to all you dancers who turned up and danced your socks off. I don't know how you keep going, it was hard enough playing for that long. If you click on the thumbnail to the right you can see some photographs taken during the evening. As you can see we had a ball and believe it or not we did actually play quite a bit of music too.

It was really nice to be back in Godalming Borough Hall on the 20th December. We've had so many memorable evenings on that stage what with all the New Years Eve dances we've done there. It really is a special place to play, not bad accoustics, nice big stage and always some excellent dancers to keep us on our toes. It was our first event working with that ridiculously young caller, Pete Rees. It's always a bit of a worry working with a new caller for the first time but Pete was just fine. Just laid back enough, nice selection of dances, clear instructions to the dancers and to us. I'm sure we'll be seeing more of him in the future, thank goodness there are some youngsters following on. Lastly I must mention the organiser of the GBH Ceilidh's, Lawrence Heath, an all round good chap and wonderful organiser. English Ceilidh has a lot to thank Lawrence (and the other ceilidh organisers) for. They put their money on the line organising these events and we should all be thankful for them (well I think so :-) Click on the thumbnail picture to see more pictures
Our next public booking is not until the 21st February when we'll be playing at the Upton Community Centre in Poole Dorset for a dance organised by the Bourne River Morris Men. The last one we did for them was very good and lots of fun so we have high expectations of this one. If you want to come you'd better get on the phone to Dick Williams (01202 743404) and book your tickets. See our Public Bookings.
22-Nov-2008
I know, I know, you regular readers will be moaning. Over a year since this page was updated and I'm sorry I know I've been very remiss in not keeping you all informed of the band's progress and developement.
It's now over 18 months since Matthew our keyboard player of over ten years decided on a dramatic career change and left for New Zealand to start training as an Airline Pilot.
I'm happy to report that Matt has done very well and passed all his exams and is now waiting for his first commercial pilots position. It's a real shame that he's picked a particularly bad time to find a job in an industry that is being squeezed both by the current economic climate and the green lobby.
Still we've all got our fingers crossed in the hopes that it will all come right in the end and we'll maybe be able to blag the odd cheap airline ticket in the future !!!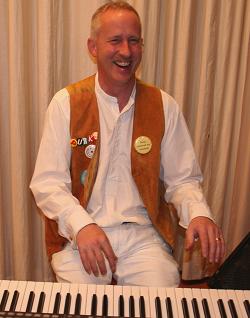 We have been very fortunate in quickly finding a very able replacement for Matt in Andrew Purkiss. Andrew is someone we have known for many years but more for his talent as a whizzo accordian player than a keyboard player.
He has a wealth of experience playing in Barn Dance Bands, he was the founder member of Rufus Return, and has been a favourite stand in musician for many local bands.
He's slotted in very easiliy with us and has been producing some very inventive but sympathetic piano accompaniments. His sense of humour seems to tie in very well with Pete the brass and together they are providing some cracking rythmic accompaniments as well as a good selection of zany jokes and when space permits some outlandish choreography.
Once we'd got Andrew on board we found out that his eldest son Robert was also a keen musician and amongst other things was playing the drums both at school in his orchestra and also temping with several other bands as required. Those of you who have followed us for a few years will know that Paul our last drummer left to concentrate on his Brass Band work and we have not had a permanent drummer for several years.
Robert joined us nearly a year ago now and is shaping up very nicely. Though he is still quite young he has been playing percussion for many years and more importantly has a genuine love for the music that we play.
So there you are that's the new lineup explained. A slight change of direction but still that good old Bursledon Village Band sound loved by dancers for so many years.
Bookings to look forward to :-
In the immediate future you will find us at Littleton Memorial Hall for a booking with the local tennis club on the 29th November and on the 8th of December we will be appearing in North Boarhunt for the Forest Folk Christmas Ceilidh. We've done this for a few years now and it's always a really nice evening, highly recommended.
On the 20th December we'll be at Godalming Borough Hall for the GBH Ceilidh's. We've played in this hall on a good few occassions and it's a really nice place to play and in which to dance. Organised by that great guy Lawrence Heath. If you can get along well we'd love to see you. Should be a good night.
New Years Eve this year we'll be at Cecil Sharp House in London. We played for this event last year with Sibby calling and it was probably one of the best bookings we have ever had. It's a lovely big hall and we had a real good mix of dancers and lots of them. Again highly recommended.
Our next booking open to the public is not until February when the Solent Harmony Group are holding a social event at Totton Masonic Hall on the 7th February 2009. You can get more details from our public bookings list.
Festivals :-
In 2009 we're booked to appear at the Bideford Folk Festival in the second week of August. This will be a first for us though we have made many friends in Devon on our many visits to play for the Bideford Ceilidh club organised by that good chap John Blackburn.
Later in August we'll be appearing at the Whitby Folk Week. We've played at Whiby on lots of occassions in the past and have always enjoyed it and I don't expect that 2009 will be any different. Whitby Pavilion has one of the best dance halls we have ever played in with a sprung floor, lots of room and nice acoustics, we're looking forward to that.
Well that's it for now, more news as it comes in. Check out our Public Bookings list to see where you can find us and don't forget we're always happy to receive your comments by email.